10 Nov

2016 GVMA Award Winners
GVMA Veterinarian of the Year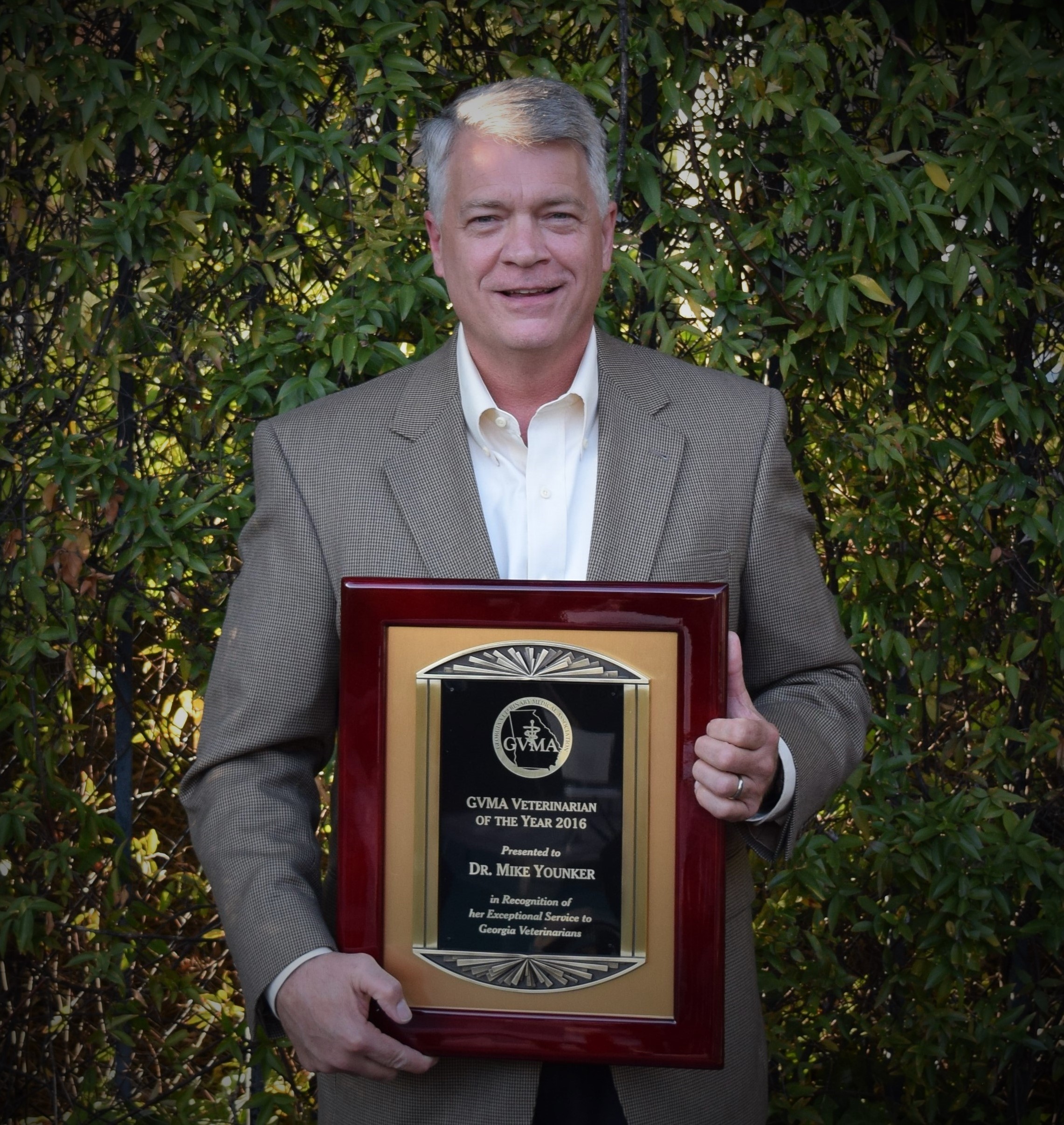 Presented to Michael Younker, DVM, in Recognition of his Exceptional Service to Georgia Veterinarians.
Dr. Younker entered the veterinary profession through hanging out as a boy with his uncle, Dr. Larry Corry.  Through Dr. Corry's influence and his love for animals and the biology of how the different animal bodies work, this choice of a profession was natural.
A 1982 graduate of The University of Georgia College of Veterinary Medicine, Dr. Younker first went to work with Dr. Corry in the South Atlanta Area. In 1988, he created LaFayette Center Animal Hospital in Fayetteville, GA. In 2003, he partnered with Dr. Robby Baggett to purchase another animal hospital in Fayetteville, which they then merged into Fayette Veterinary Medical Center in 2008.  Before the merge, they also acquired another animal hospital in Sharpesburg, just outside of Newnan called East Coweta Veterinary Hospital.
All during this time, Dr. Younker helped to create and served on the Board of Directors for Southern Crescent Animal Emergency Clinic in Fayetteville, which has just this year moved and morphed into South Atlanta Veterinary Emergency and Specialty Center, for which he now serves as CEO.
Mike loves golf, cycling, and has the pleasure of playing several musical instruments.  Being a practice owner has been one of life's greatest pleasures. Dr. Younker calls the Veterinary Profession "the greatest profession in the world" and it has been very good to the Younkers!
J.T. Mercer Lifetime Achievement Award
Presented to C. Carter Black, III, DVM, in Grateful Recognition of his Life-Long Dedication to Veterinary Medicine in Georgia.
Dr. C. Carter Black, III grew up on a farm in Ringgold, Georgia and graduated from Ringgold High School.  He received a Bachelor of Science Degree in Agriculture from the University of Georgia in 1965 and earned his Doctor of Veterinary Medicine Degree from the University of Georgia in 1968.
Dr. Black began his veterinary career at Ford Animal Hospital in Forest Park, Georgia.  In 1970, he purchased a mixed practice in Summerville, Georgia, which he operated for 14 years. During that period, he was active in several civic and community organizations and donated his veterinary services to Chattooga county 4-H and FFA and the Georgia High School Rodeo Association.
In 1984, Dr. Black joined the Georgia Department of Agriculture as Assistant State Veterinarian and continued to practice during evenings and weekends.  In the summer of 1989, Agriculture Commissioner Tommy Irvin appointed Dr. Black as Associate State Veterinarian to oversee the statewide animal health programs.  Under Dr. Black's leadership, Georgia has become free of cattle brucellosis, swine brucellosis and pseudorabies.  He served as the Department's Veterinary consultant to the Equine Health and the Animal Protection Sections and worked closely with the field inspection staff.
In 1996, Dr. Black took a leadership role in supervising the movement, testing and quarantine of the horses involved in the Atlanta Olympic Games.  He was especially involved in the development and implementation of the successful Piroplasmois Control Program and supervised a team of inspectors throughout the period of the games.
Commissioner Tommy Irvin appointed Dr. Black as Assistant Commissioner of Animal Industry and State Veterinarian in December 2007.
In 2001, Dr. Black was named Veterinarian of the Year by the GVMA for his contribution to regulatory veterinary medicine.  He also received the Top Hand Service Award from the Georgia Cattleman's Association in 2006.  Dr. Black is a graduate of the 2000 class of the Georgia Agrileaders Forum.  Dr. Black graduated from the Georgia Leadership Institute, Executive Leadership Program in 2008. Georgia Farm Bureau honored Dr. Black in 2012 with the GFB Commodity Award for his support of animal agriculture.  In 2015 Dr. Black received the Friends of County Agent Award by the Georgia Association of County Agriculture Agents. In October of this year Dr. Black received Honorary Membership in AGHON Honor Society, this is the highest honor that a student in Agriculture, Forestry, Veterinary Medicine and Engineering can attain from the University of Georgia.  Dr. Black continues to work with the Department of Agriculture at the Georgia National Fair and Jr. Livestock Exhibition at Perry, GA and is serving his second 4 year term on the Agriculture Commodity Commission for Equine and also serves on the State 4-H Advisory Committee.
Dobbins Mahaffey Advocacy Award
Presented to Doris Miller, DVM, in honor of her outstanding advocacy for the Veterinary Profession in Georgia.
Anyone who has spent time in veterinary leadership in Georgia is sure to know Dr. Miller, and in most instances she needs no introduction. In fact, she has been to so many of these award ceremonies that she even created her own slides for this presentation.
Dr. Miller earned her undergraduate degree in food science from the University of Georgia, where she also earned her DVM. She would later obtain her PhD in Veterinary Pathology from UGA, and is a Diplomate of the American College of Veterinary Pathology.
The 22-page Curriculum Vitae she provided with her submissions for this award is a testament to her qualifications for any award, but it doesn't tell the whole story of how groundbreaking her career has been. She served as the first national President of American Association of Veterinary Laboratory Diagnosticians, she was one of the first female Directors of a veterinary diagnostic lab and was the first female President of the GVMA.
As the Associate Director of State Government Relations for the UGA veterinary college since 2007, Dr. Miller works closely with the Directors of both Veterinary Diagnostic Laboratories, the Head of the Pathology Department and the Dean of the College of Veterinary Medicine in matters involving State Government. Dr. Miller serves as a liaison with the Georgia Department of Agriculture and the GVMA and is a current member of the GVMA Advocacy Committee.
Dr. Miller is such a fixture at the State Capitol that she is seemingly on a first-name basis with nearly every Georgia legislator, all the while advocating for a profession she has served and loved for more than 35 years.
Clare B. Reagan Recent Graduate Award
Presented to Caitriona Matthews, DVM, for seizing the opportunities of leadership to make a difference in Georgia veterinary medicine.
Dr. Caitriona Matthews is originally from Racine, Wisconsin before heading south to graduate from Furman University and the University of Georgia College of Veterinary Medicine in 2009.  She has practiced in Alpharetta, Georgia and Tallahassee, Florida.  She is currently a small animal practitioner at Weems Road Animal Hospital in Columbus, where she has lived since 2014 with her husband, two children, three dogs, and one cat.
Dr. Matthews is the current President of the Chattahoochee Valley Veterinary Medical Association in Columbus. She also has been involved on multiple task forces and committees with the GVMA, and she is now an inaugural member of the GVMA leadership development program.
Dr. Matthews' special areas of interest include internal medicine and behavior.  Her personal interests include playing cello, running, reading and spending time with her family.
President's Recognition
Presented to Timothy Montgomery, DVM, in Recognition of his Exceptional Service to Georgia Veterinarians.
Dr. Montgomery devotes a lot of his time to furthering the excellence of veterinary medicine. Not only in his clinic, Dacula Animal Hospital, does he strive for the best care, but he works in the local community, the state, and national levels with the GVMA, and AVMA.
Together, with these organizations, he strives to set the standard of veterinary care for your pets and help influence policy and laws that help improve the veterinary-client-patient relationship. Dr. Montgomery was also previously awarded Veterinarian of the Year in 2012.
Extra Mile Award
Presented to Carly Watson of Simmons & Associates in Recognition of her Outstanding Service and Contributions to the Veterinary Profession in Georgia.
Congratulations to all of our Award Winners! You deserve it!
Lovingly,
The GVMA Team